Sprocket - 1993 to 2006
Sprocket passed away at the age of 13. She was the matriarch of our little family, keeping the other two in check, and generally supervising the whole operation. I am quite sure that she owned us, rather than the other way round.
She was a really lovely little cat. She is very feminine, very maternal, and very sweet-natured. She is the smallest adult cat I have ever seen, and she has a very distinctive curly tail. She came from Erdington Cat Rescue. She had been found wandering at Spaghetti Junction and nobody wanted her because of her curly tail.
She is probably the happiest cat in the world. She is supremely intelligent and very good at problem-solving. Her favourite toy is elastic bands, which are dropped by the postman. She is so clever she can work out ways to get them out of cupboards and indeed anywhere else we try to hide them. She loves to be involved in everything, and is particularly keen on doing mechanical things in the garage where she can be found sitting on the wing of the car peering under the bonnet, sitting on my motorcycle seat, or sitting with slightly glazed eyes after she's sneaked in to watch us doing welding - she's the only cat I know who's suffered from arc-eye! She loves to explore new things and new places, and comes for a walk to us whenever she can. She loves to get up into the loft, and then through to next door under the eaves, and causes no end of embarrassment when we have to go and retrieve our cat.
During the building of our extension, she got into everything. In fact I think this building was the highlight of her life. As well as having to be rescued from the roof on three occasions, she also got stuck in all kinds of inappropriate places. She is overwhelmed by curiosity and has to explore everything new. We were worried when during the building work she developed idiopathic feline vestibular syndrome and started going round in circles, but after a few worrying weeks, and a cancelled holiday, she recovered and is now back to climbing trees and getting into trouble.
For such a tiny cat, she isn't worried by dogs. Indeed, she tends to chase after them, and quite a few large and potentially fierce dogs have been seen running away from her looking very worried. They have the vague impression about them that they think this is the wrong way round, but they aren't taking any chances!
Sprocket needs a lot of love and attention. She likes to sleep right on my head, and washes my hair for me as if I'm a kitten. She is very fussy and worries if we are late, or away, or unwell. She would sit on my lap all day if she could. June 25, 2007rywhere, and if people call round for a chat, she sits and watches our faces as we are talking - she has to be involved in alJune 25, 2007June 25, 2007-->June 15, 2007us a few titbits, some of which are quite unusual. She likes cheese, yoghurt, cream and cottage cheese, but also odd things like curry sauce from the chip shop, and raw mince.
In September 2006, she developed cancer and had a big tumour in her chest. We made her last few days very happy and peaceful. She was put to sleep on my lap on 25th September 2006. She went gently and now sleeps in peace. It is hard to believe that a cat could be more loved.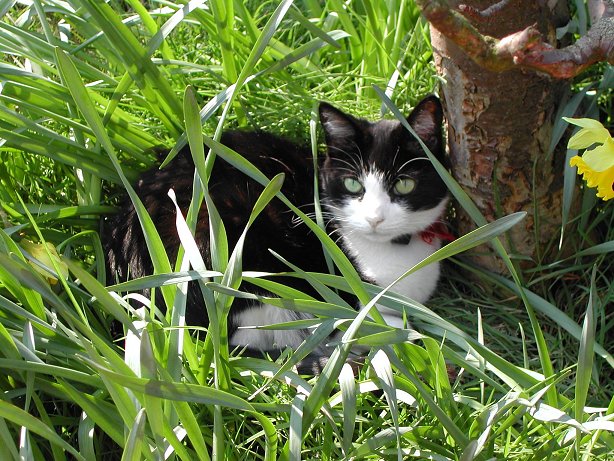 Isn't she cute?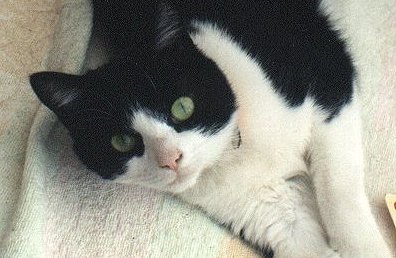 A close-up of Sprocket's lovely gentle face.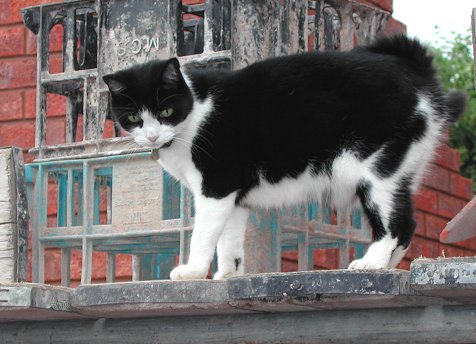 Sprocket, exploring the scaffolding, showing her little curly tail.
---