Doc Sarah's Motorcycle Pages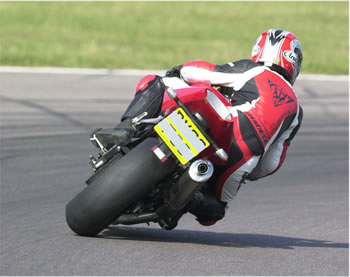 Yes, it really is me....
My first bike was a Honda 90, acquired to get me as cheaply as possible from home to Medical School in 1980. This bike lasted until I was given a car, but I had by then developed a deep love for motorised two-wheeled transport. Busy house officer and junior hospital posts followed, and I was without a bike again until 1995, when the journey across Birmingham was becoming more and more tedious, and parking ever more difficult.
I'd never bothered to take my test in 1980 - you didn't need to in those days. But I had to take a test to go on the A38(M) motorway, and duly passed at my first attempt in 1995. Initially my plan was to get a small workhorse bike to commute, but I gradually got more and more into biking, and the size of my bike grew from an SR125 to a Yamaha R1 (1000cc). It also introduced me to a whole new social life with bike clubs, weekend blasts, touring, get-togethers and the glorious experience of track days, to which I am now completely addicted.
I'd certainly recommend a track day, and particularly a track school to any motorcyclist as a way of finding out what your bike is capable of in a relatiely safe and controlled environment. I'd also recommend regular advanced motorcycle training on the road - you need it!
My bike is used for everything - commuting, touring, weekends away, Saturday blasts, track school and track days. I simply can't envisage being without a bike - it is truly part of my life.
Please follow the links on the left, or below, to read more about my motorcycling exploits.
---
| | |
| --- | --- |
| About my bikes | Find out about the bikes I have ridden in the past, and the ones I ride now |
| Track Day Photos | Photos of various folks including myself looking like a track day hero(ine). |
| Other Photos | Other bike-related photos |
| Quick Quacks Motorcycle Club | I help to run this club for doctors and dentists who ride motorcycles. We have a great deal of fun hooning about the country twice a year at our meetings. This site also contains our newsletters which have quite a few interesting articles. Check them out! |
| Ixion | Ixion has been likened to a bunch of bikers chatting down the pub, only we do it by e-mail instead. It is much more than an e-mail discussion list. Check us out! |
| Bike Links | Lots of excellent links to more bike-related stuff |
---