Honda VFR400 NC30
---
I've owned two of these. Small, swift and very, very cute. This pocket rocket seemed to be made for a tiny racer wannabe like me. I almost despaired of going into bike shops and being offered a custom bike. What I really wanted was a sportsbike, but my height, or lack of it, was a problem. Then I spotted this beauty at the back of the dealer's. I knew this was the bike for me.
This was my first sports bike and what a bike! Beautiful looks, beautiful handling, beautiful screaming four-cylinder engine, and sensational performance from the little 400cc V-4 engine. 60bhp is more than enough to pull a lightweight rider like me along very fast indeed. She turned heads wherever she goes, and manages to outrun much larger bikes on club outings. She was just wonderful.....
Sadly, she met her end at the hands of a lorry driver in a multi-vehicle pile-up on the M5. Having recovered from the accident, there was no other choice for a replacement bike when the time came....I got another VFR400. Despite having an R1, I still love to ride this little VFR, which was passed on to Stephen when he passed his test. It is great fun to have a bike where you can really twist the throttle, and ride like a hooligan. It is pure fun.
Good points:
Just about everything.
Sensational fast, revvy and extremely reliable V4 engine, revving to 14.5k - what a gorgeous sound.
looks beautiful - a miniature RC30
handles like a dream...suspension hard, steering light, flicks wonderfully, outclasses many larger bikes
got my knee down for the first time the day after I bought it!
survived a crash with minor damage that would have completely mangled the Ducati....
Even has practical points, like bungee hooks
tickover adjustable from a knob on the fairing, but you don't need to adjust it because it is a Honda....
Bad points:
"Only" a 400" - I've never found this to be a problem on the road, but it is annoying on the track when faster bikes out-drag you at the end of the straight then hold you up through all the bends
not brilliant for commuting or touring, but then you wouldn't ride an out and out racer like this for commuting...
seat gets hot in summer because rear pots are under the seat
pillion seat is a joke, but then who wants to race two-up?
reserve tap hard to get at and impossible to switch over to reserve when on the bike, let alone while moving!
Electrics are a bit dodgy and the headlamps are hopeless.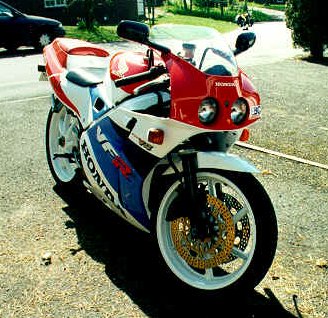 VFR400R Number 1- On my driveway in 1998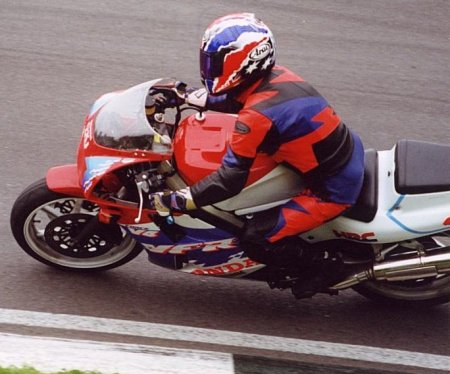 VFR Number 2 with me on board at Cadwell Park..
Steve and VFR400 Number 2