Stephen's GSXR600
---
OK, it's not my bike, but it IS a bike I've ridden. The 2002 GSXR600 that Stephen bought is too tall for me to ride on a regular basis, as I can't reach the ground on it at all - I have to slide sideways even to get a toe down. It's manageable for a short ride on the road, or on the track where you don't actually have to stop at all, so these are my impressions from a road ride and a few laps of Cadwell and Rockingham.
The GSXR600 has always attracted me, although seen as a hooligan bike by many. It looks good, and the only drawback has been the size and relative difficulty of making suspension modifications.
It is extremely light - lighter than any bikes I've owned. This is noticeable when pushing it about in the garage, and on the road. The handling is razor sharp, and without doubt it is set up to hold its line better round some of the tighter corners on the racetrack than the R1. That said, it also feels less stable, manifest in the steering damper fitted as standard. The gearbox took a while to get used to, but then I've been riding Yamahas for a while now. Suzuki riders think my gearbox is clunky, I feel the Suzuki is vague - it's what you're used to I guess, but it took me a while to know when I'd got it into gear. For the first few laps I was twisting the throttle and wondering where the power was - this was cured by changing down two gears and keeping it over 10k revs (something the R1 doesn't see much on the track) - do this, and it flies!
The handling is superb, the brakes very good, and the Arrow can fitted to Stephen's bike sounds gorgeous - probably even better than the Micron on the R1. And it has bungee hooks, unlike the R1.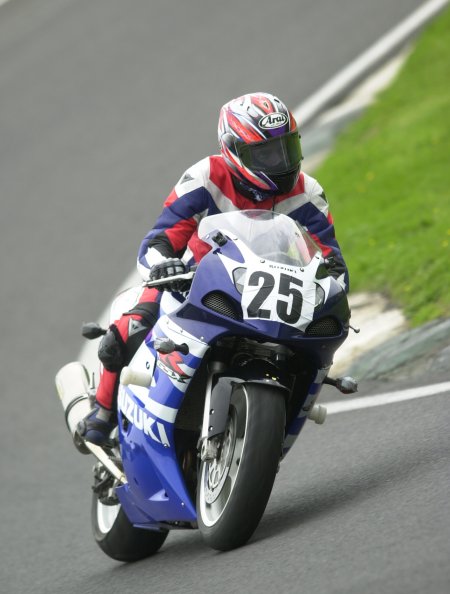 OK, this isn't me...it's Stephen on the GSXR at Cadwell.