I'd never had a large bike before - my choices were constrained by my limited ability to reach the ground on the majority of available bikes. However, when I needed a new bike to travel the increased distance to work following a house move, I decided to get the bike that I wanted, and then have it modified to fit. I looked at a great many bikes, and was being urged to have an R6 because it was small. But I decided what I really needed was a Fazer with a full fairing, in other words, a Thundercat.
In the bike shop, I could just touch both tiptoes down, but the bike they had on offer was not the right one for me. Eventually the right bike came up for sale, and I travelled to Oxford to pick it up. I was rather surprised when I couldn't reach the floor at all, leaving me with the challenge of riding a bike home on which I could not touch the ground. Stephen lifted me off the side-stand, and I managed to ride it home sliding sideways to get my right foot down every time we stopped. New suspension link arms were made, and the bike lowered so I can comfortably get a tiptoe down on both sides, or a good foothold on one side.
And it was lovely! It had a lovely Micron can making a wonderful throaty sound. The bike was extremely comfortable (good for winter riding at higher speeds over longer distances), had a great riding position, handled very well, although not as well as the VFR400, and went extremely fast making rather a satisfying scream from the exhaust in the process. It felt big and fat and really planted and stable on the road, even where the Birmingham potholes are particularly bad. I don't know if the suspension modifications have affected the handling because I barely rode the bike without the modifications, but it is really irrelevant - I couldn't have the bike at all if the modifications hadn't been made. The answer is that I am not a capable enough rider to notice whether performance at the extremes has been affected. It handles well enough, and its virtues of being big, fat, heavy, comfortable and planted on the road are exactly the reason I bought the bike - I couldn't imagine doing high mileage on an R6.
My experience of lowering this bike gave me confidence to do the same again, and to go for a really big bike next time - the bike of my dreams!
Advantages
Big, soft, heavy and comfortable - great for high mileage
Still handles, at least with a lightweight like me on board
Goes extremely fast, plenty of acceleration to get you out of trouble and not enough to get you into trouble
Excellent brakes (kevlar lines and HH pads added to the extremely good basic system) - at last I was finding out what real brakes can do!
Great Micron can makes it sound wonderful
Stable over bumps
Low centre of gravity means I have confidence it won't tip over
Good tank range and luggage capacity
Copes with sustained 80mph with ease

Disadvantages
It had to be modified before I could ride it due to my small stature - the seat is quite high, but so is every other bike these days unless you are content with a very dull bike.
It is softer handling than a race bike, but then I've already got one of those so who cares?!
Blustery over the ton, probably even a shortie like me would need a double bubble screen
Rather heavy clutch and levers not readily adjustable
I often got false neutrals going into second gear because the lever travels rather a long way and my feet are little!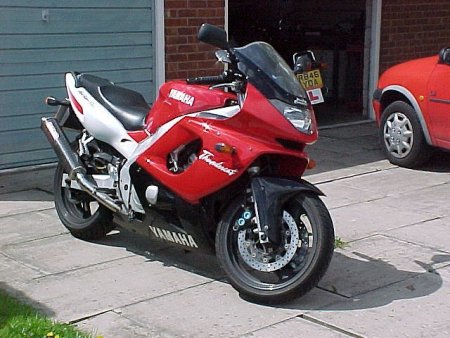 My lovely Thundercat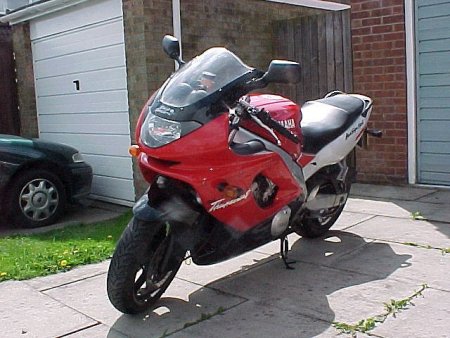 ...and another view...