Skiing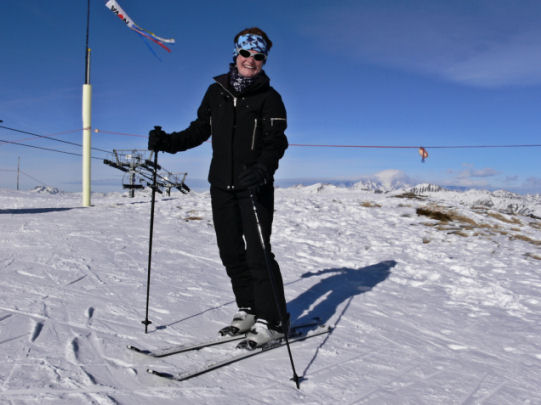 It didn't start very well
Although I'd learned to snowplough I couldn't do more than that when I met Stephen. This was made even harder by damage to my leg and knee following my big motorway accident in 1998. He suggested that I get a pair of Snowblades and got me some excellent tuition from Gareth Roberts (BASI Trainer) at the Snowdome in Tamworth. After being the original terrified beginner, I progressed to being able to do quite reasonable parallel turns, and we booked a holiday in Courchevel.
We were on a course for nervous and novice skiers, and Stephen came along with me on the first morning to make sure my lungs were OK at the altitude of the ski resort. I was making reasonable turns, and seemed to be about of the standard of the main group, despite this being my first morning in the mountains, when I took a tumble while travelling at about 2 miles and hour. Ow! My knee hurt. I had fractured my tibial plateau, and that was the end of my ski holiday, the rest of which was spent being put back together in Chambery Hospital, and acting as unofficial interpreter (I can speak French) for the large numbers of British patients.
I didn't really want to have another go for quite a long time, but eventually I was persuaded back to the Snowdome, and we booked another holiday...
But it got better!
We decided to go to Alpe d'Huez in January 2005, partly because of its fame in the Tour de France, and partly because it had a lot of beginner runs. I was still using Snowblades, and gradually improved in technique and confidence, managing some blue and even a couple of red runs by the end of the holiday. I still wasn't convinced I liked skiing 'though. I was still very scared all the time.
In 2006 we decided to go to Courchevel again. I had to banish the demon and get down the slope I'd fallen on before, but I managed it OK. We had more lessons from Gareth Roberts at Supreme Ski School and although I didn't get confident, I did improve in competence. More importantly, I did my own version of Ski Evolutif, and gradually progressed to longer skis, until I was using 147's - just about right for my height. I had started to get the ski bug, so we did another week in Courchevel in March 2006, and I felt much more confident. I wasn't worried about red runs any more, and had managed to get down some black runs too.
I was persuaded (not easily) that going on a race training course would brush up my technique, so we booked onto the Snoworks course in Tignes in November to do giant slalom race training. My goodness that was difficult! I was doing this course with only 1 week's experience on long skis, and was the least experience skier there by a very huge margin. I was scared stiff, struggling with the altitude and cold weather and my goal for the week was to ski through a set of gates without snowploughing at all, and without skiing out. Well, I did it. In fact I did pretty well and didn't finish last in the end-of-week race. I got the race bug, and although I wouldn't relish going to Tignes in November again (too cold, too windy, very poor lift system on the glacier), I would definitely go through the gates again.
We managed a further 3 weeks in 2006-7, two in Courchevel and one in Kaprun/Zell am Zee. Again, my confidence and competence were increasing and I was getting down red runs pretty fluently and black runs better than many. I also got experience of deep powder (didn't fall over either!) and of different snow and weather conditions. I was lucky enough to get a pair of race skis (Volkl Racetiger SL Race) in the end of season sale in Austria.
I now have eleven weeks' ski experience (7 on long skis) and am really hooked. We are Snowdome members and although it isn't a patch on the real thing, it is much better to go there than not to ski at all - I skied all summer last year and am hoping to do the same this year too.
First Race Win!
January 2008 - La Rosiere. We entered the public entry Fleche (GS race) and, we both won! I was fastest non-pro lady and Stephen was fastest non-pro bloke. My time was within 2 seconds of the pro ladies and his was within 2 seconds of the ESF Instructor!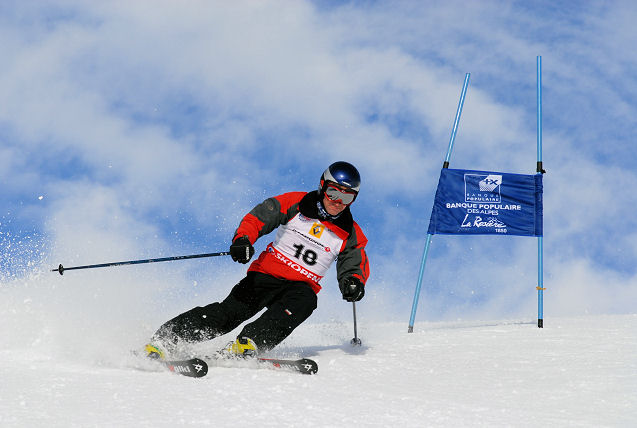 Stephen going for it at the first terrain break.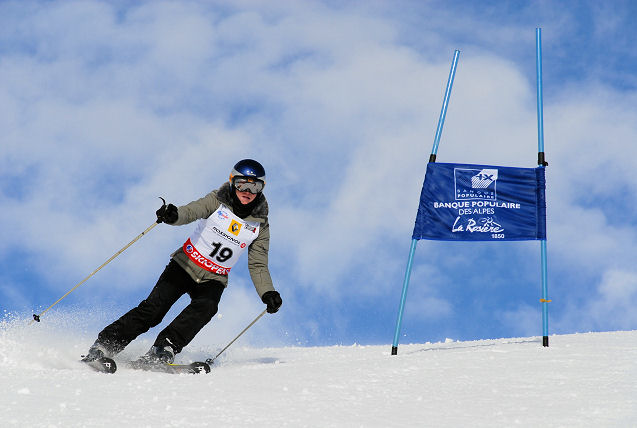 Me racing at La Rosiere - a bit far from the gate!
Instructor!
I decided in November 2007 that I would like to try and become a ski instructor, mainly for the discipline and development it would offer to my skiing. After a season of good instruction in the Alps, I enrolled on a BASI Level 1 ski instructor course at the Snowdome in Tamworth, and passed this course in May 2008. I'd like to go on to do Level 2, but this will involve a lot of work