Aerobics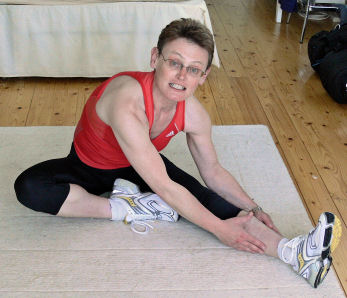 Demonstrating a seated hamstring stretch
Why aerobics?
I've been doing aerobics since it was called "Keep Fit". Aerobics is extremely good way of working at your own level to improve cardiovascular fitness. I particularly like dance-type aerobics and Step, and regularly attend classes at Bannatyne's in Tamworth and Mick's Gym in Tamworth, and in the past have attended classes at The Belfry too.
I particularly like complicated choreography because it takes your mind off the fact that you are working hard, but I also enjoy simple classes such as BodySTEP. I also enjoy BodyPUMP (body conditioning with weights) and occasionally go to other classes too.
Instructor Training
I had first wanted to be an aerobics instructor in the mid-1990's, when I was keen on learning to be a Step instructor. However work made this impossible, and after 2001, my health deteriorated, and so even though I was working part-time, I was now not able to do vigorous aerobics and talk to a class. So I thought I'd never achieve this goal.
In early 2007, I decided that my fitness had improved through cycling and regular gym attendance, coupled with a reduction in spells of illness following my retirement, and thought I'd give it a go at the age of 48. I enrolled with FutureFit Training, and started the distance learning theory course.
I was due to take the practical exam in February/March 2007, but unfortunately my Mum passed away and I had to postpone this. However in April 2007, I took the practical course in Exercise to Music, and passed the theory exam. My final assessment was on May 26th 2007. Stephen came with me as a class participant and also a friend who is an instructor. I'm very pleased to say that I passed it quite easily! During May 2007 I also completed training as a Step instructor, so am now qualified to teach both aerobics and Step. I have already done some classes under supervision and I can honestly say that it is extremely good fun indeed, and I'm looking forward to covering a regular class and also setting up my own. I've not enjoyed myself as much for years.
Qualifying as an aerobics instructor at the age of 48 despite having cystic fibrosis was quite an achievement. A few tears were shed when I was told the result.
Details of the classes that I run are available on the Pragmasis Fitness web site.