Building a Giant TCR Composite
I've done bits and pieces of bike maintenance before but never built my own bicycle from parts before. As it happens I was looking for an ultralight carbon fibre bicycle on which to possibly compete in triathlons, but certainly to build up as a race bike.
So, I was very glad when a wonderful TCR Composite frame became available brand new in my size for half price. I bought this just before Christmas 2006, and ordered the parts. It seemed I could get an absolutely top specification bike for half the price it would cost to buy a shop-assembled one. I was also able to get a lot of the parts heavily discounted in January sales. Easton Ascent II wheels, Campag Chorus 2007 ultra-torque groupset throughout - lovely!
First of all, I had to do some things I'd never done before - like fitting the bottom bracket and headset. Fortunately, our friend Chris (redsnapper from another cycling forum) came round to talk me through it while I did the job, and this was brilliant, because I learned how to do it.
The bike was finally finished in March 2007 and I can report that it rides beautifully. I am still settling the gears into their proper adjustment, but the frame is excellent - very comfortable and like riding cream. It handles superbly, and is exceptionally light. I'm already at least 1 mph faster on this bicycle as I was on the Trek a year ago at the same time. It will be an excellent bike for short fast rides, and possibly the odd triathlon or time trial.
These are photos of the build so far:-
End of first day - fitted the headset, bottom bracket, cranks, wheels (without cassette - have to wait for that to arrive), wheels (with tubes and tyres fitted), stem and handlebars :-)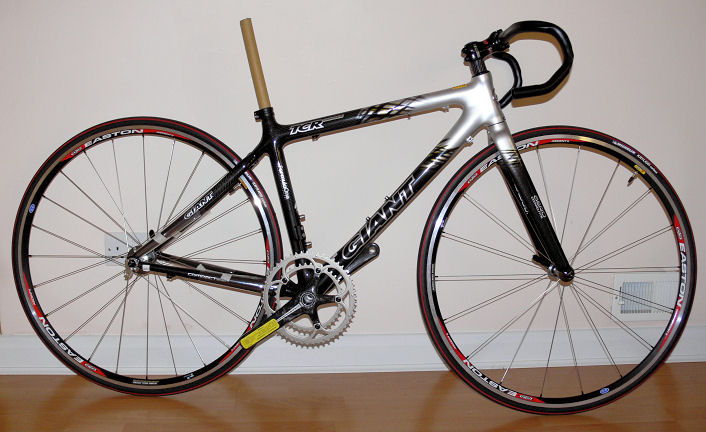 A close-up of the very drool-worthy Chorus carbon cranks. The sticker warns you not to fit these unless you know what you are doing!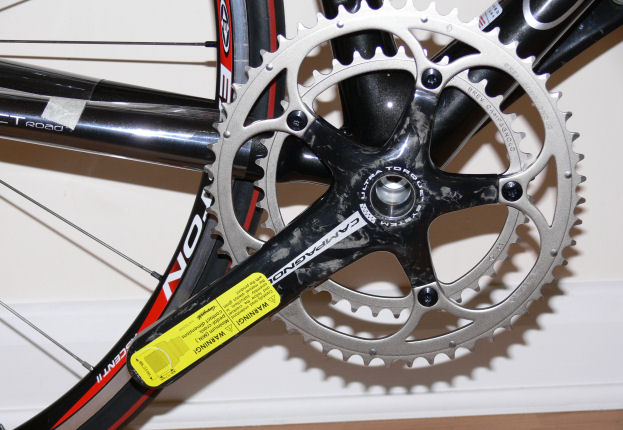 A close-up of the FSA Vision stem, integrated FSA headset and 3T Eva bars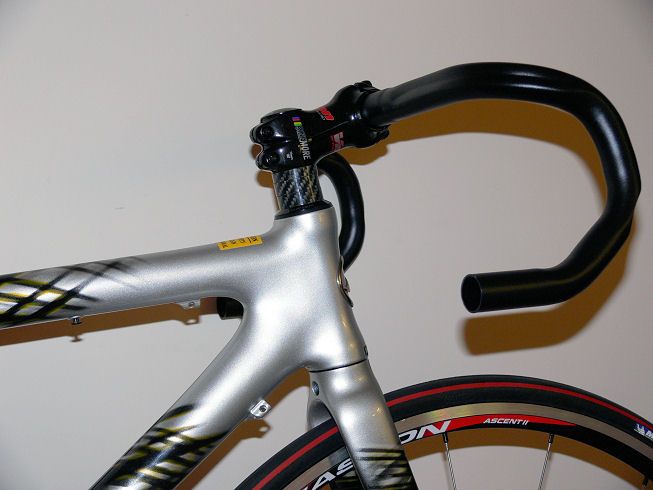 I'll add more photos as and when I fit more parts.
Here we are, almost finished. The bike now has working and adjusted brakes, cassette, cables, derailleurs (need a bit more tweaking), ergolevers. I've fitted pedals and taped the bars and fitted seatpost and saddle (needs a bit of tweaking, but basically the right height). It just needs a bottle cage and computer, a bit more fiddling with the derailleur adjustment and it's ready to go :-)