Dahon Matrix
In 2005 I needed a bicycle to get to the station. The Trek was too nice to leave chained up there all day, and too big to carry on the train in rush hour, should I need a bicycle in Birmingham to get to meetings. I also really wanted a bike that I could use off road if required, particularly on tow-paths and trails with a slightly rough surface, rather than for serious mountain biking.
The Dahon Matrix seemed to fit the bill - full sized MTB that folded, MTB gearing, and didn't cost so much that I would worry about it during the day if I left it at the station.
Little did I know when I bought the bike just how ill I was going to be during 2005, and that I would be taking ill health retirement from work as a result. Nevertheless, during the short period that I used the bike for commuting to and from the station, I can say that it was an excellent steed. It was very sturdy, and able to cope with poorly-surfaced cycle paths with ease. Equipped with Shimano Alivio/Acera equipment and Revoshifters, it was of reasonable quality for the job, and had plenty of places to put things like racks, mudguards, mountings for lights and saddlebads and so forth should they be required. It wasn't light to get on and off the train, but folded really quickly, which meant that you could rapidly convert it to a normal bike and wheel it around anyway. Yes, it was heavy and therefore relatively slow compared to my more racy steeds, but I still managed about 12mph average on my commute.
I also took it on the Tunnels Ride at the end of 2005 - which included some off-road and canal tow-paths on a 46 mile route. It coped well with off-road including a rather rocky descent, although it is not recommended for off-road use. Nevertheless it proved itself a capable hard-tail MTB.
By Spring 2007, it really was surplus to requirements, and it was sold on.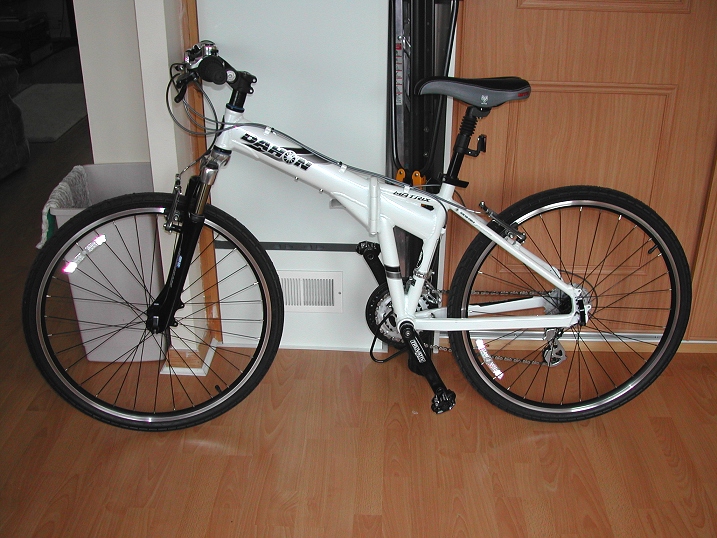 The little Dahon Matrix unfolded ready for use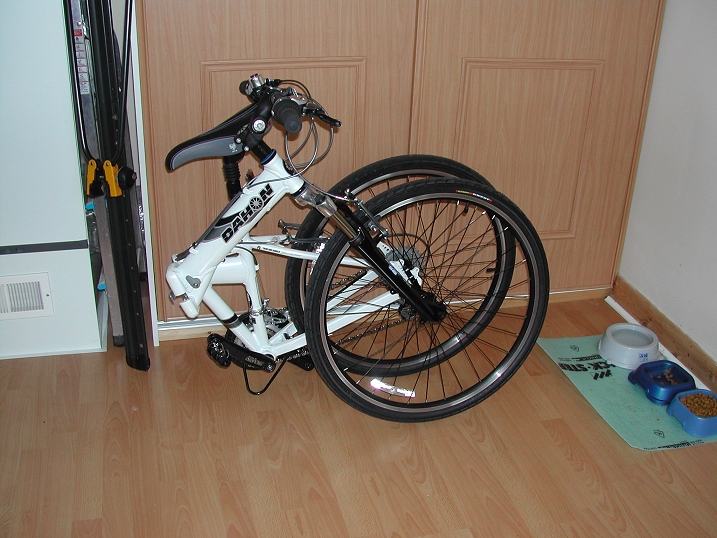 A rapid fold reduces the size and makes it possible to take it on a train. I don't think the cats were amused that I'd parked it next to their food 'though :-)